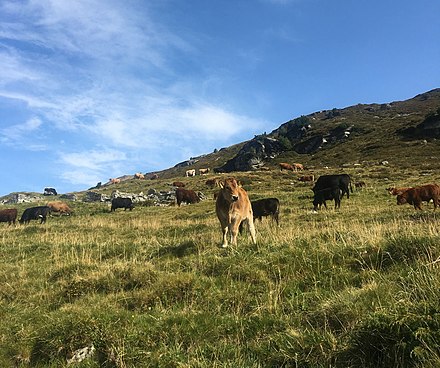 BY LEANDER C. DOMINGO
TUGUEGARAO CITY (December 13)—The Department of Environment and Natural Resources (DENR) in Region 2 (Cagayan Valley) has appealed to pasture holders to help increase food production in the country.
DENR Region 2 executive director Gwendolyn Bambalan appealed to the Forest Land Grazing Management Agreement (FLGMA) holders in Cagayan Valley to increase the number of livestock raised in their respective areas.
Under DENR Administrative Order (AO) 36, series of 1999, the FLGMA is a production sharing agreement between a qualified person, association and/or corporation and the government to develop, manage and utilize grazing lands.
In a recent FLGMA holders' meeting in the region, Bambalan encouraged the pasture holders to meet the one livestock per hectare prescribed under the said AO, or up to a maximum of four cattle for every hectare by applying new technologies in cattle raising.
She explained that their economic gains would mean supporting the directives of the administration to help increase food production and decrease importation activities.
The region's five provinces — Cagayan, Isabela, Nueva Vizcaya, Quirino and Batanes — has 73 active FLGMA holders.
Bambalan also informed the active pasture holders that next year, the DENR will be strict in monitoring and evaluating their compliance with the terms and conditions of the FLGMA.
She noted that there will also be an assessment of permittees' comprehensive development plan through an inventory to monitor that there is a yearly increase in their livestock.
"We understand your difficulties in raising livestock, but rest assured that we are here to help," Bambalan said.
She added that representatives of the Technical Education and Skills Development Authority and Land Bank of the Philippines have been tapped to assist the FLGMA holders in ruminant livestock education and funding or loan assistance.
Meanwhile, former San Mateo town mayor Roberto Agcaoili in Isabela has expressed their commitment to abide by the existing FLGMA rules and regulations.
Also the newly elected president of the Cagayan Valley Ranchers Association, Agcaoili said they are willing to undergo training to learn more about the livestock industry to support the government's thrust to increase food production.
He also expressed hope that there will be sufficient funding from government agencies to boost the cattle industry in the region.
Charles Lim, president of the Isabela Cattle Raiser Multipurpose Cooperative, also encouraged his co-ranchers to innovate and focus on livestock management to produce high-value cattle.
Challenging other ranchers in Region 2, Lim said they all need to move to be more productive and aggressive like their counterparts in other regions.