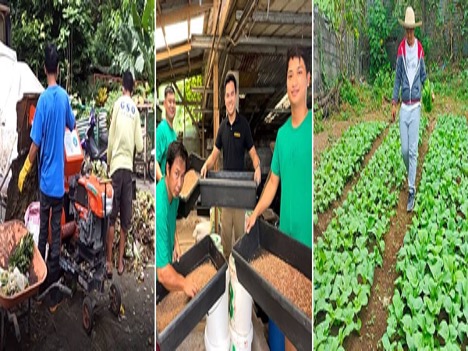 BY LEANDER C. DOMINGO
FOUNDED by Joseph Navasero, Insiklo is a startup venture that is turning market and household wastes into feed and fertilizer with the aid of the insect called black soldier fly (BSF).
According to the Southeast Asian Regional Center for Graduate Study and Research in Agriculture (Searca), about 500 kilograms of market waste from Los Baños municipality in Laguna province are sent every week to the Insiklo facility.
Then the larvae of BSF devour food scrap, agricultural debris and manure, reducing the waste volume and odor into a nutrient-rich compost for use as organic fertilizer on crops. The mature larvae are then harvested and processed into high-protein feed for livestock, poultry and fish.
In 2022, Searca Director Glenn Gregorio said the center's Grants for Research toward Agricultural Innovative Solutions (Grains) Searca was awarded to support Navasero in elevating the BSF waste bioconversion system.
"This demonstration of repeatedly turning organic waste into valuable farming resources is the essence of circular agriculture in action," Gregorio said.
Thus, the Insiklo project boosted the conversion yield five times by switching to a vertical modular setup compared with the traditional concrete beds. It also created a faster way of physically separating the larvae from the compost using sieves.
Searca said the modular setup of Insiklo treats up to 750 kilograms of biowaste and produces 150 kilograms of fresh larvae with up to 75 kilograms of compost every 15 days.
Also with optimum temperature, humidity and substrate conditions, the insect-rearing system has raised the monthly production capacity of Insiklo between one-half ton and 2 tons of BSF larvae, according to Searca.
Sustainable waste transformation
Navasero said Insiklo aims to create a lasting, transformative impact on organic waste management and agricultural sustainability.
"By promoting sustainable waste transformation, resource recovery and agricultural innovation, the project contributes to building a more environmentally conscious and economically vibrant region," he said.
Searca also noted that with Grains support, Insiklo has established protocols in processing and packaging larvae and compost. "The compost is suitable for growing leafy vegetables, such as lettuce, pechay and mustard."
However, Insiklo has also reported challenges in marketing organic compost and recommended raising awareness among potential customers and farmers.
According to Searca, a range of industry clients are attracted to Insiklo for various applications, such as real estate waste management, poultry manure processing for feed mills and tilapia cage operators, and food waste treatment for meat processing plants.
It said with this growing interest, Insiklo aims to increase larva production by up to 50 tons a month.
Eric Reynoso, Searca Emerging Innovation for Growth Department program head, said "agritechnology ventures is key to sustainable food production."
"Through Searca Grains, we call on innovators from Southeast Asian countries to pursue their ideas for commercialization and agricultural transformation," Reynoso said.