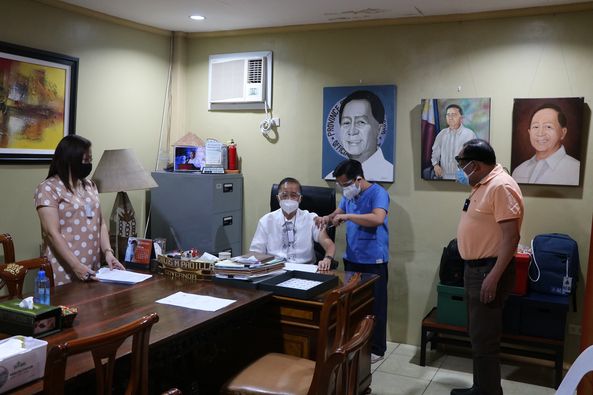 BY LEANDER C. DOMINGO
BAYOMBONG, Nueva Vizcaya (May 10)—Governor Carlos Padilla received on Monday morning his first dose of Sinovac vaccine against coronavirus disease 2019 (Covid-19) in his office at the Capitol Compound here.
Padilla's first dose was administered by Nurse King Harold Bautista of Nueva Vizcaya Provincial Hospital in Bambang town.
Bautista said the governor received his vaccine under A2 priority or as a senior citizen and that the governor is scheduled to receive his second dose on June 7 or 28 days after his first dose.
The National Inter-Agency Task Force has also allowed local chief executives belonging to the high-risk areas of coronavirus disease 2029 (Covid-19) to be vaccinated like Cagayan Governor Manuel Mamba who received his first dose of Sinovac vaccine on April 12.
Bautista said Padilla went through five steps in the vaccination process such as registration, screening, counseling, vaccination and monitoring.
On April 13, Padilla was discharged from Salubris Medical Center in Solano town in this province after he has fully recovered from Covid-19 infection.
According to Bautista, there was no indication of adverse effects during Padilla's post-vaccination monitoring.