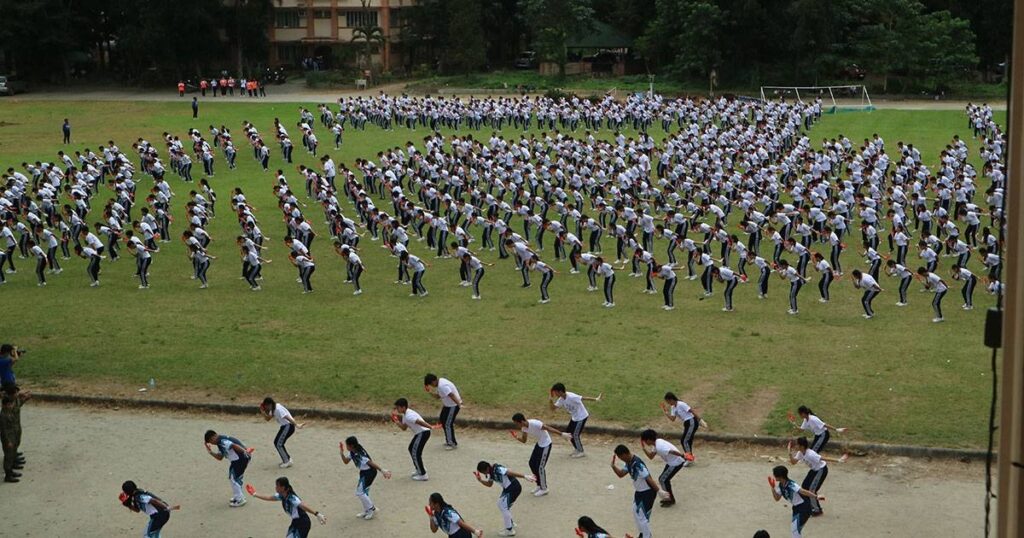 BY LEANDER C. DOMINGO
BAYOMBONG, Nueva Vizcaya (December 15)—Anchored on the theme "Devoted to Mission and Excellence," Saint Mary's University (SMU) in Bayombong, Nueva Vizcaya once again celebrated, face-to-face, its 94th founding anniversary after more than two years of hiatus due to the Covid-19 pandemic.
According to SMU President John Octavious Palina, this tradition is a celebration to commemorate the university's achievements since its establishment in 1928 and pioneered education in the last 94 years and has become a brooding ground of professionals instilled with God's wisdom and the Passion for Christ's Mission.
During the opening program marking its 94th year on December 8, 2022, Palina looked back at the challenges and successes of SMU over the years.
He noted that the university which is an education apostolate of the Congregation of the Immaculate Heart of Mary (from the Latin Congregatio Immaculati Cordis Mariae or CICM) in Nueva Vizcaya is one of the six CICM schools in the Philippines.
These are the St. Louis University in Baguio City, St. Louis College in Cebu, St. Louis College of San Fernando in La Union, the University of Saint Louis in Tuguegarao City, and Maryhill School of Theology in Quezon City.
Established in 1862 by the priest Theophile Verbist, CICM is a Belgian Roman Catholic missionary congregation.
Palina recalled that SMU as an institution goes back to the hands of Monsignor Constant Jurgens, a CICM missionary and one of the earliest missionaries to arrive in the Philippines, which also began as a dream that shaped Jurgen's mission to establish a school for the Christian education of the parishioners' children.
In June 1928, the CICM mission was woven into the inauguration of Saint Mary's Elementary School. It stretched further, and by 1934, the High School Department was opened under the leadership of Rev. Fr. Godfrey Lambrecht.
In 1947, Saint Mary's College (now SMU) was established. In 1994, the University Building, now known as the Constant Jurgens Building, was built to mark the elevation of Saint Mary's College to university status, naming the institution as Saint Mary's University with Rev. Fr. John Van Bauwel as the first university president.
It was on September 9, 2019, after a lengthy history of CICM priests serving as SMU's top administrators, when Palina was appointed as the fifth SMU president making him the first-ever lay university president.
Over the years, the university has strived for excellence and through the Philippine Accrediting Association of Schools, Colleges and Universities (PAASCU), the university attained different levels of accreditation for its programs and received numerous awards for its competence through its service in the national and global scene.
Palina said SMU remains a center of excellence for teacher education and center of development for civil engineering and information technology.
"It generates a high percentage of board passers and even topnotchers in many of its board courses," he said.
Also drawing inspiration from this milestone, the university president has encouraged all stakeholders to continue working together as a team.
"May we continue to work together as a team, as one community inspired by our mission to serve and always driven by excellence," Palina said, alluding to the university tagline, "inspired by mission, driven by excellence."
As part of the celebration, the whole Marian community participated in a parade around town, followed by a Eucharistic Celebration, flash mob dance performances, and conferment of the Golden Rose Awards.
Academic teaching and non-teaching personnel from basic education to college were also recognized during the annual Gawad Maria event. WITH REPORTS FROM MARIELLE CAMONAYAN AND AARON DOMINGO