BY TVJ STAFF
A TEAM from the Department of Trade and Industry (DTI) and Department of Health (DOH) in Batanes province has collected expired food items from stores in Uyugan town's villages.
According to Mary Jane Abuso of the DTI Negosyo Center Uyugan, the collaboration between the DTI and DOH goes beyond Covid–19 matters.
Abuso said food items that had expired were collected, and store owners were reminded to verify the expiration dates of food items in their inventory to guarantee the safety of their customers and tourists visiting the island town.
She said the monitoring of business enterprises (BEs) by the Uyugan DTI-DOH team is a regular activity that takes place every quarter of the year.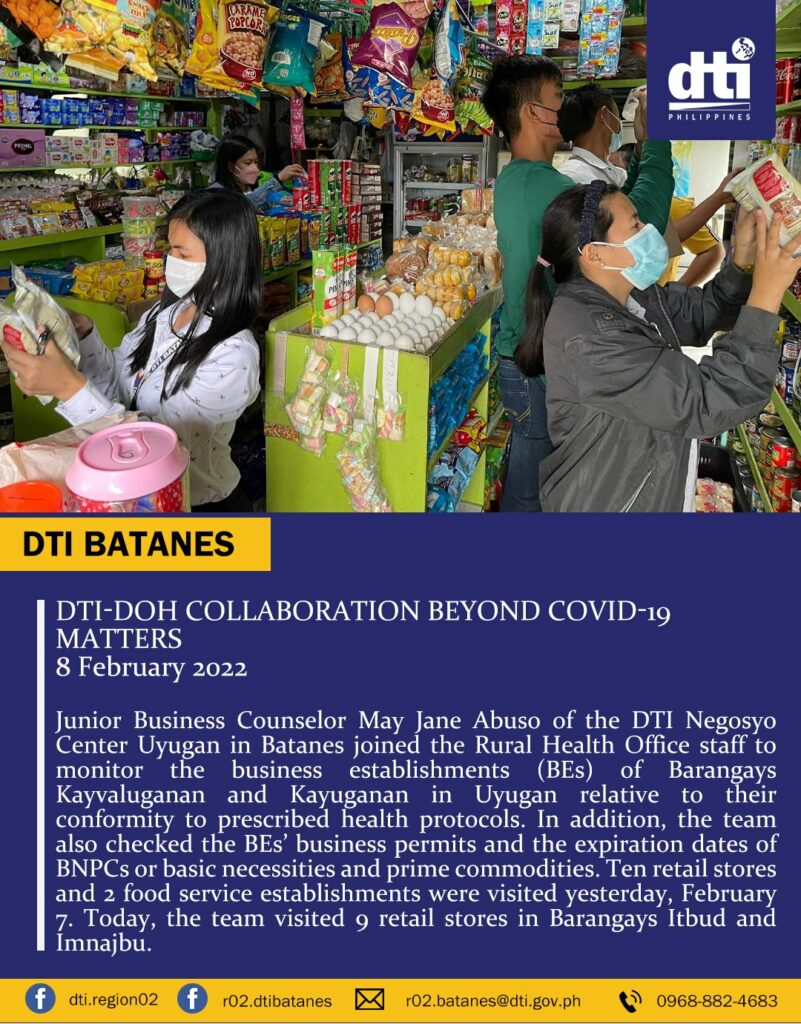 The DTI Negosyo Center Uyugan teamed up with the Rural Health Office to inspect the business BEs in the barangays of Kayvaluganan and Kayuganan for compliance with health procedures.
The crew also reviewed the BEs' business permits and the basic needs and premier commodities expiration dates.
On February 7, the DTI-DOH team inspected ten retail stores and two food service establishments in Kayvaluganan and Kayuganan while on February 8, the team also visited nine retail stores in Itbud and Imnajbu villages.
Uyugan is located on the island of Batan comprising the villages of Itbud, Imnajbu, Kayvaluganan and Kayuganan with a total land area of 16.28 square kilometers with a population of 1,380 people.
It is the smallest town in the entire Philippines in terms of land area and the second in terms of population.