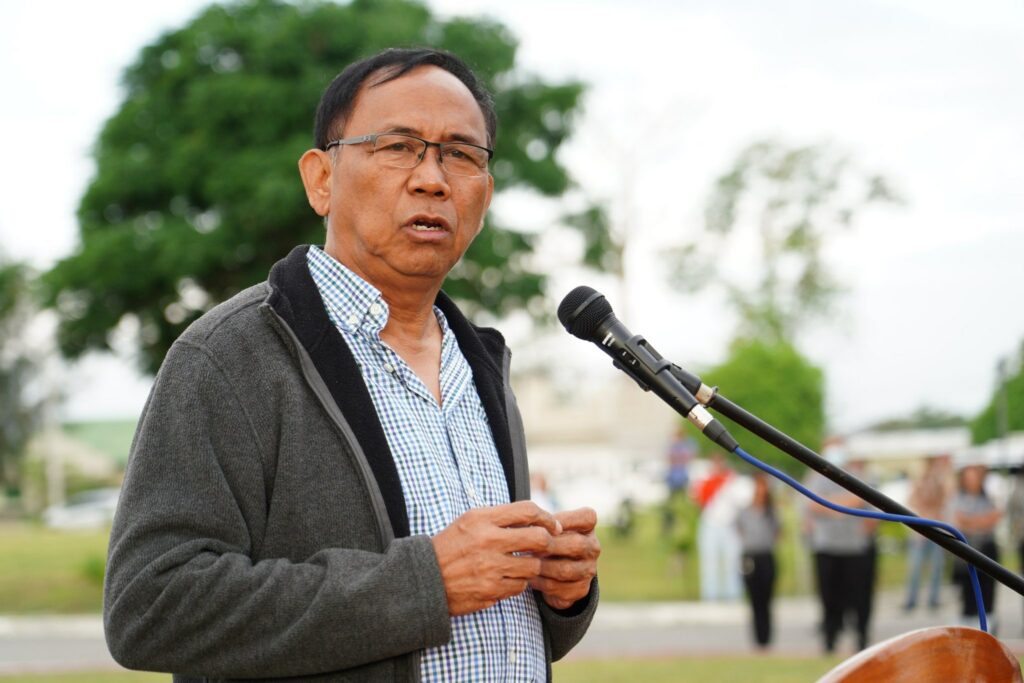 BY VINCE JACOB VISAYA
TUGUEGARAO CITY (December 16)—The Second Division of the Commission on Elections (Comelec) has disqualified Cagayan Gov. Manuel Mamba from the 2022 gubernatorial race, which he had won for his third consecutive term, for breaching the ban on election spending.
A Comelec-Second Division resolution granted a petition lodged by Zarah Rose Lara who ran but lost to Mamba in the 2022 contest for governor.
She is the wife of Cagayan Third District Rep. Joseph Lara, supposedly a nemesis of the Mambas.
Presiding Commissioner Marlon Casquejo and Commissioners Rey Bulay and Nelson Celis signed the resolution, which was promulgated on Dec. 14, 2022.
"Respondent MANUEL N. MAMBA is DISQUALIFIED as a candidate for the position of Governor of the Province of Cagayan in the May 9, 2022 National and Local Elections," the resolution's dispositive portion read.
In her petition, Lara accused Mamba of engaging in vote-buying during the campaign period in his bid for a third consecutive term in the 2022 polls, in the guise of cash assistance distribution using funds of the provincial government under programs dubbed "No Barangay Left Behind" (NBLB), "No Town Left Behind" (NTLB) and "Oplan Tulong sa Barangay."
She said the issuance of a temporary restraining order on April 29, 2022 by the Regional Trial Court Branch 5, Tuguegarao City, Cagayan, did not stop Mamba from distributing the money.
In his block-time program "Caygandang Cagayan" aired both on radio and online platforms, Mamba said the allegations were without basis.
"The Comelec gave an exemption on the distribution of assistance so I believe there is a political motivation here," he added.
According to him, he is willing to be jailed "if only to help poor people" and that he will exhaust "all possible legal means" to prove his innocence on the matter.
Mamba said he has not received official documents on his disqualification.
He also said was only given information by his subordinates from social media posts.
"However, I was prepared for this and our lawyers will handle this matter," Mamba added.
"They planned the legal complaints even before the elections. Even my wife Mabel (Mamba) and (vice gubernatorial bet) Franco (Mamba) were subjects of the complaints. However, we are ready and our lawyers will handle this matter," he said.
"Please be calm and let God give us the hope to remain in public service. The fight goes on," according to Mamba.
The Comelec Second Division gave Mamba five days to file his motion for reconsideration over the disqualification case.
Section 68, paragraph 1, of the Omnibus Election Code states, "Any candidate who, in an action or protest in which he is a party is declared by final decision of a competent court guilty, or found by the Commission of having given money or other material consideration to influence, induce or corrupt the voters or public officials performing electoral functions… shall be disqualified from continuing as a candidate, or if he has been elected, from holding the office."
The Second Division, in a statement, said evidence against Mamba did not directly prove his guilt but the issue of vote-buying was reportedly strong because it violated Section 261(v)(2) of the Omnibus Election Code and Section 2 of Comelec Resolution 10747.
Under Section 2 of Comelec Resolution 10747, no public officials or employees, including village officials and those in government-owned or controlled corporations and their subsidiaries, shall release, disburse or expend any public funds from March 25, 2022 until May 8, 2022.
A certificate of exemption provided under Section 13 of the Comelec resolution was issued but the poll body said it only covers the NTLB program subject to the condition that the amount paid within the 45-day ban will be submitted.
There was no "express exemption" on other programs, the Comelec statement said.