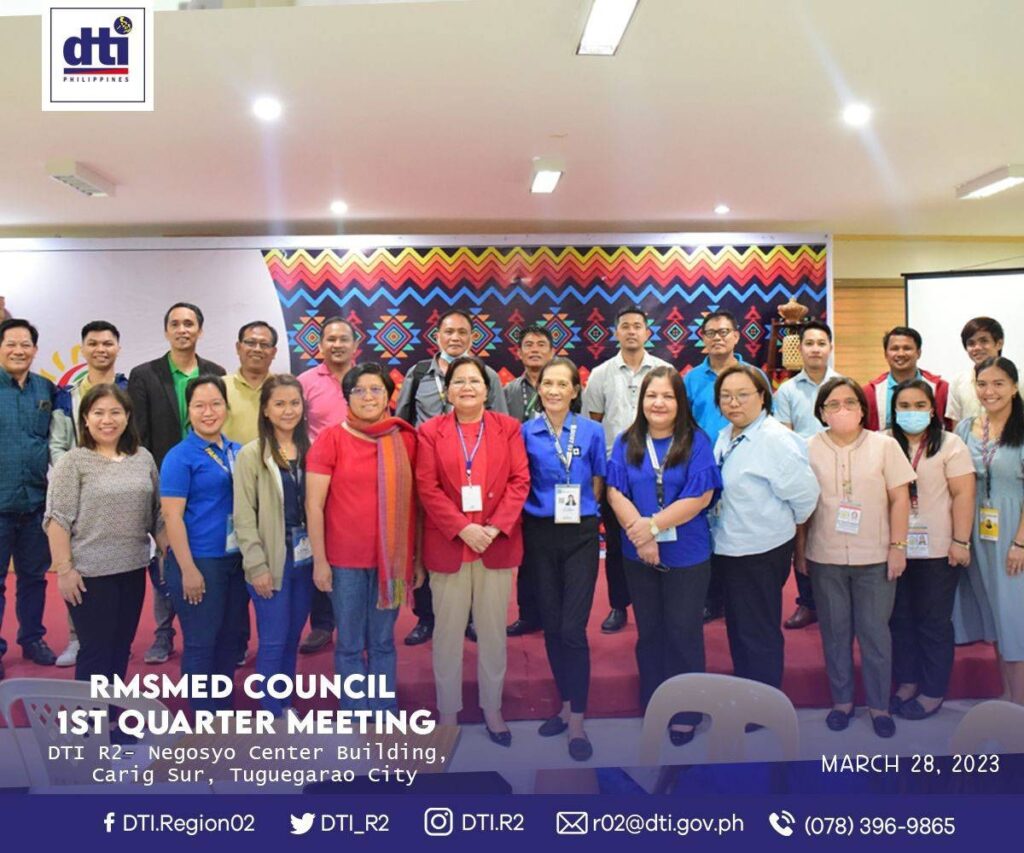 TUGUEGARAO CITY, Cagayan (March 31, 2023)—The Department of Trade and Industry (DTI) in Region 2 (Cagayan Valley) has gathered 30 members of the regional micro, small and medium enterprise development council (RMSMEDC) for a robust inter-agency collaboration for recovery and growth from the effects of the pandemic.
DTI Region 2 Director Leah Pulido Ocampo said the move is to strengthen synergy and the whole-of-government approach toward recovery and growth of MSMEs in the region in collaboration with different regional line agencies, the private sector, the academe and other relevant stakeholders.
Ocampo also said the gathering is for all participants to present the programs, projects, activities and plans for MSMEs during the 1st Quarter RMSMEDC meeting at the DTI Region 2 Negosyo Center Building on Tuesday, March 28, 2023.
Also the RMSMEDC chairman, Ocampo noted that as MSMEs are reeling under the effects of the pandemic, the goal of the activity is to strengthen convergence efforts and align directions focusing on the needed approach to the development and support of MSMEs.
She said there is a need to work together for the benefit of MSMEs in the Cagayan Valley region.
"We need to know what we are doing for our MSMEs and eventually align our goals so that we don't waste resources on overlapping programs. We really need to synchronize as a region, pool our resources together and come up with significant and impactful programs for MSMEs despite the limitation of budget," Ocampo added.
During the event, Ramil Garcia, DTI-SME Development Division chief, also presented in detail the agency's unique interventions for MSME development for 2023.
These interventions include the positioning of Cagayan Valley as the main supplier of primary or minimally processed raw materials for institutional or industrial use, the Buy Local Advocacy Program, the Food Development Program, the export and e-commerce initiatives, product development programs and the "Walang Sayang" (no waste) Project.
Other interventions made were the one-town-one-project or Otop Philippines program, the Grand Bagsakan, the Youth Entrepreneurship Program for Indigenous Peoples, the Kapatid Mentor Medium Enterprises program, the Barangay Micro Business Enterprise work plan and financing programs, among others.
Garcia said the partner and member agencies also presented their programs and commitments for the development of the MSMEs in the region.
He expressed their firm and resolute commitment to equipping the MSMEs with the proper interventions and support in terms of product packaging and labeling, upgraded product certifications, increased market links for MSMEs, and other necessary support.
DTI Isabela Provincial Director Ma. Sofia Narag said the agencies and partners have committed to help advance the growth of MSMEs and showed ardent efforts to align, synergize and collaborate to further strengthen the council.
Representing the Philippine Chamber of Commerce and Industry, Cloyd Velasco pointed out that each has a vital role in the effective implementation of the programs and activities for MSMEs through collaboration.
"Individualism is now ending, and collaboration is now the rule," he said.
Ocampo said the DTI Region 2 and its partner agencies are optimistic that this collaborative initiative will create a distinct approach to empowering the MSMEs in the region. LEANDER C. DOMINGO