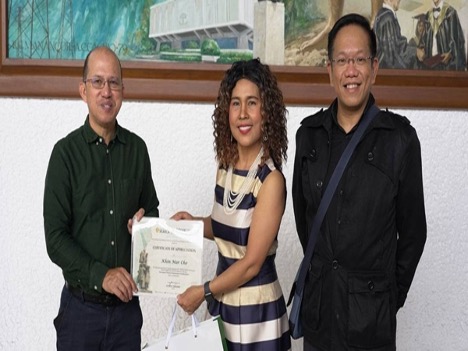 BY LEANDER C. DOMINGO
LOS BAÑOS (November 24)—A New York-based Cornell University Food Systems specialist visiting Southeast Asian Regional Center for Graduate Study and Research in Agriculture (Searca) has encouraged Filipino youth to go into agriculture, especially in the agri-food system.
Prof. Khin Mar Cho, International Agriculture, Food Systems, and Nutrition Specialist at Cornell University, is in the Philippines and visited Searca on November 21, 2022.
"We need to encourage young people to go into agriculture and be involved in the agri-food system. Young people are very critical for the economic growth of today and the future," Cho said.
In her visit to Searca, Cho was received by Searca Director Glenn Gregorio; Assoc. Prof. Joselito Florendo, Searca Deputy Director for Administration; Corinta Guerta, Technical Advisor to the Director; Dr. Nova Ramos, Head, Training for Development Unit; Sharon Malaiba, Head, Partnerships Unit; Dr. Romeo Labios, Technical Consultant, Emerging Innovation for Growth Department.
Gregorio said Cho was a Searca Online Learning and Virtual Engagement or Solve webinar speaker in May this year and was one of the keynote speakers in the recently concluded Southeast Asian Youth Fest (SAYF).
To enhance youth leadership and participation among Searca's programs and initiatives, SAYF was organized by the Searca Youth Ambassadors Platform or Sayap, an internal youth empowerment platform for young Searca staff.
"I am happy to contribute to Searca on whatever technical expertise I can share with Searca and University of the Philippines Los Baños constituents," Cho shared.
Also present at Searca to receive Cho were Myanmar Searca scholars whose study posts are in UPLB, Dr. Virginia Cardenas, former Searca Deputy Director for Administration, and other key Searca staff.
According to Gregorio, the Cornell University specialist is visiting the Philippines for engagements at the Central Luzon State University, a member of the Southeast Asian University Consortium for Graduate Education in Agriculture and Natural Resources (UC); Nueva Vizcaya State University; and Philippine Department of Agriculture (DA)-Agricultural Training Institute (ATI).