BY LEANDER C. DOMINGO
ILAGAN, Isabela (August 17)—To ensure the sustainable supply of eel fish resources in the wild, the Bureau of Fisheries and Aquatic Resources (BFAR) in Region 2 (Cagayan Valley) has spearheaded the stocking of glass eels along tributaries of the Cagayan River.
Vee Jay Ujano of the BFAR-Provincial Fishery Office (PFO) Isabela said the eel dispersal activity is under the stock enhancement component of BFAR-PFO's Balik Sigla sa Ilog at Lawa program.
"This aims to replenish depleted stocks caused by overfishing and other anthropological activities and natural disasters in the region," Ujano said.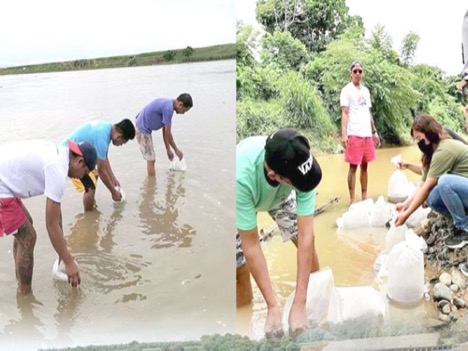 He said black eels are considered a high-value species and an important export commodity among eel-consuming countries like China, Japan and Taiwan.
Selina Wamucii, an end-to-end platform for sourcing food and agricultural produce from cooperatives, has posted the eel wholesale price for 2022 on its website.
It posted that the approximate price range for Philippines eels is between $1.54 and $1.39 per kilogram or between $0.7 and $ 0.63 per pound.
It also indicated that the price in Philippine peso is P74.33 per kilogram while the average price for a ton is $1,537.93 in Quezon and Manila.
Earlier, the BFAR released around 91,000 pieces of elvers (baby eels) in identified fish sanctuaries and water tributaries of the Cagayan River in Isabela province.
Ujano said the PFO assisted the municipalities of San Pablo, Cabagan, Santa Maria, Santo Tomas, Delfin Albano, Tumauini, Gamu, Naguilian, Reina Mercedes, Cauayan City and Angadanan in the dispersal of elvers.
The Cagayan River, known as Rio Grande de Cagayan, is the longest river and largest river by discharge volume of water in the Philippines with a total length of approximately 505 kilometers.
As a source of livelihood among fisherfolk in the region, the river has a drainage basin covering 27,753 square kilometers and flows north to its mouth at the Babuyan Channel near the town of Aparri.
It traverses the provinces of Nueva Vizcaya, Quirino, Isabela and Cagayan.