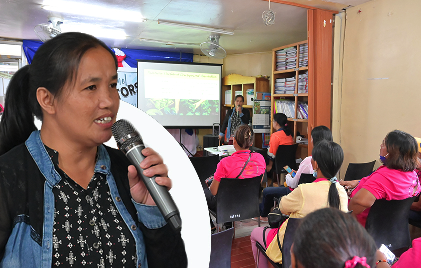 BY LEANDER C. DOMINGO
QUEZON, Nueva Vizcaya: A London-based mining company here has been promoting a working place where women are seen to excel in different environments perceived to be exclusive to men.
Lorne Harvey, FCF Minerals Corporation general manager for operation, said gone were the days when society regarded women's most significant profession is on wifehood or motherhood alone.
"Nowadays, women are seen to excel in the different work environments in the mining industry that most people thought it is only for men. This manifests that the days are gone when women were only regarded as pure housewives," he said.
Harvey noted that as an implementer of responsible mining, FCF Minerals also advocates women's empowerment and that "we also provide equal opportunity to both gender through the implementation and management of various programs and projects in the community."
With the Social Development and Management Program (SDMP), FCF Minerals also provides economic opportunities to members of the Federation of Runruno Livelihood Association Inc. (FRLAI) who are mostly women.
In addition to equal job opportunities in the company, Harvey said the FRLAI, a newly organized federation of the 13 existing community-based organizations (CBOs) in the mining host village of Runruno here, is funded under the company's SDMP. 
Presidents of these CBOs compose the members of the FRLAI board of trustees and among them is Mildred Binay-an who was the pioneer elected president and also the concurrent president of the Kinalabasa Enterprise Development Association Inc. or Kedai.
Harvey said Binay-an did not hesitate to accept added responsibilities in a voluntary capacity despite challenges in both schedules and leadership experience.
Binay-an also leads the newly federated CBOs as president and has been appointed as the general manager of their Enterprise Development, overseeing the operation of the CBO federation's newly established business in consolidating and marketing different products. 
"I am fully aware that my role and responsibilities in the federation will be very challenging, especially since the organization is still in its initial stage which is the most crucial stage in an organization," she said.
Harvey said Binay-an may not have completed her college education and that her previous job is not in any manner related to her new post but these are not barriers to successful leadership.
"It is her willingness to be trained and learn all the necessary skills which FCF Minerals also contributes for the betterment of the federation," he said adding that Binay-an is a paragon of an empowered woman leader who remains strong and constant in the face of the challenges of being a leader. 
"Women at FCF Minerals despite being in a field that has long since dominated by males continue to fulfill their jobs with utmost commitment and fervor," Harvey said.