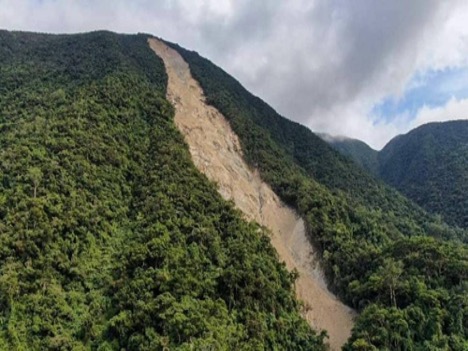 CABARROGUIS, Quirino (June 20)—The Department of Environment and Natural Resources (DENR) in Region 2 has denied any illegal activities causing a landslide in the Sierra Madre mountain, particularly in this province.
"This incident in the Sierra Madre mountain in Quirino province was not due to mining, logging or any illegal activities near or where the landslide was located," DENR Region 2 officials said.
DENR Region2 executive director Gwendolyn Bambalan said the landslide — approximately 90 meters wide at 1,592 meters above sea level — took place at Sitio Dioriong, Barangay Villa Gracia in Maddela town in Quirino.
"The incident was a natural occurrence due to heavy rains," Bambalan explained.
A team from the community DENR offices of San Isidro town in Isabela and Nagtipunan town in Quirino and the local government units of San Agustin (Isabela) and Maddela (Quirino) investigated the incident.
Their finding, according to the DENR Region2, showed that the area is covered with mossy forest and limestone rock formations within the Quirino Protected Landscape.
It said the team also discovered bedrocks and boulders along the Sili Creek found at the foot of the incident area, and discolored flowing water from the top of the landslide site.
Bambalan said the absence of inhabitants or community in the area with no traces of illegal activities found in the site and nearby areas only shows that the landslide was not man-made.
She also said the investigating team that trekked for almost a week to reach the landslide's exact location found no activities conducted in the area.
Meanwhile, the Mines and Geosciences Bureau led by Region 2 Director Mario Ancheta said they are also conducting aerial surveillance together with the DENR regional office in coordination with proper authorities to ascertain the condition of the uppermost area of the mountain.
"This way, we will be able to determine what possibly caused the landslide," Ancheta added. LEANDER C. DOMINGO